Helen and Baby Ricardo

I went into hospital as planned last Thursday lunchtime and as I thought by 5.45pm was sitting in my room feeling bored and wishing I was at yoga!!! :-) Things finally started happening on Friday evening when they hooked me up to an oxytocin drip. When the contractions started coming everything I'd learnt at yoga and at the couples workshop was right there with me and for the first stage I breathed my way through the pain and really tried to listen to my body and follow my instincts. It felt wonderful and looking back I really enjoyed this part of the labour, I felt so at one with what was happening and so relaxed and positive! Manuel was right there with me all the way through and I could not have wished for a better birth partner!
Unfortunately as time progressed being induced didn't make things easy as I was hooked up to the drip on one side and the monitor on the other side and following my instinct became harder ... Things then progressed really quickly! Little Riccardo finally arrived at 9.42 on Saturday morning weighing 6lb 7oz.
We made it home on Sunday and everything is going wonderfully. We are loving being mum and dad and Riccardo is an absolute angel, so peaceful and calm, sleeping and feeding brilliantly and though I know I'm very biased he's absolutely adorable!
Carrie and baby Maya

Just wanted to let you know about our new arrival. I'm very excited to tell you that Maya Rose was born a week overdue and weighing a pretty hefty 9lb 13!

Although not the easiest labour and birth in the end...plans tend to go out of the window when nature intervenes...the control of my breathing with gas and air was most definitely helped by your yoga sessions. Just being aware of my breathing and focusing on it was something I'd never considered before attending the classes.

So, thank you very much for your help and I'm sure I'll be bringing Maya to meet you at baby yoga!




Rebecca and baby Clara

Wanted to get in touch to let you know if the safe arrival of my baby girl Clara Winifred Joy.
My waters broke at 41 weeks but labour didn't follow. So after daily monitoring for 3 days and a couple nights of contractions I was induced in the Sunday afternoon - but needed only the drip to get me going as already 3cm
After about 5 hours on the drip and in my preferred position of leaning over the bed and deep yoga breathing I was ready to get going! The standing/rocking position and mental preparation in the days up to birth got the baby so low and I was really calm and unafraid. I needed assistance in the final stage, but even then I knew it was the best thing and my body had done all it could to bring her to that position.
I can't say I used the yoga positions in the birthing room but those nights before hand at home doing gold thread breath to get me through early stages and meditation on womb breathing each day made the world of difference to me and gave the strength to know I could do it.
The midwives commented on calm and quiet I was but I knew that my baby knew the way and the concentration on breathing was the best thing for us both.
I just want to say thank you so much for your classes and support - I may even be a yoga convert!
Clare and baby Sebastian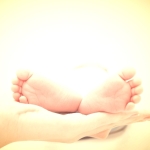 I just wanted to let you know that i gave birth to a very healthy Sebastian Ronald Sanders weighing 8lb 4 oz. Breathing techniques and visualisations worked amazingly well - although were perhaps a little too effective as the hospital kept telling me not to go in as i sounded 'too calm' and once i was there they left me for 45 minutes without examination even though my body wanted to push!
Waters broke so i buzzed through and they brought me paracetmol and said they would fill the pool for me... once it was full i ran down the corridoor between contractions and was in the pool with gas and air for 20 minutes (amazing) before Sebastian swam into the world in ambient lighting and grabbed onto Daddy's hand in the water. The midwife was shocked... i was definitely in the 'birthing zone' apparently i didn't make a sound except right before he came i looked at Ron and said "it hurts, i need to push"!
Lots of skin to skin, Daddy cut the cord and Sebastian had his first feed! It was the most empowering and incredible experience of my life. I wanted to thank you for the yoga classes and workshops, they really helped me to go into the process with positivity and an open mind.
Nicola and baby Aoife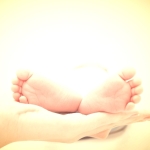 Brendan and I had a beautiful baby girl on Sunday (3 weeks, 5 days early!!) My waters broke on Friday evening and we came into the Women's on Saturday morning and was admitted into the induction suite straight away. We finally moved into the delivery ward on Sunday morning and delivered baby Aoife at 18:25pm, weighting 5lb, 11oz. She is doing really well but jaundice set in early so she's in a bedside incubator and has a little blood infection and is on a five day course of antibiotics so we will be staying in until Saturday at least. The staff on all levels are absolutely amazing and we know we are both in the right place at the moment.
The birth:I can wholeheartedly say that all the yoga, breathing and relaxation techniques that you have taught me, and Brendan, over the past five months truly got me through the whole experience. I listened to your cd, done lots and lots of camel walking, squatted back onto Brendan, while he was sat on a chair, kneeled over the bed swishing my tail and finally went onto all fours rocking forwards and backwards to help push baby out. When I was 3cm we were told that baby was in breach position and they suggested I have a caesarean but I thought and said 'no chance, I can do this'!! So they let me breath through it (I just had paracetamol with gas and air) and when she finally came I was able to sit up and watch her come out, then with one final push her head was delivered.

Those last few minutes were incredible, the room was so calm and peaceful (despite 6 staff being present!) and it left me totally in awe of what I, my body, and baby had achieved. Brendan was such an amazing support and used everything he had learnt at the couples workshop, which was brilliant!! I thought you might like to know the meaning of the name Aoife, which we didn't realise until after we named her! MEANING: "beautiful, radiant, joyful." Known as the greatest woman warrior in the world.
I will miss our Thursday yoga sessions but will see you again soon for post pregnancy yoga and baby yoga. Thank you for everything!.



Nicola and Annabel

Annabel Louise arrived safe and well, a week early. I can't stress enough how much the yoga classes and couples workshop helped with the labour. I used golden thread breath throughout and found it really helpful. Also making low belly sounds rather than anything high pitched, apparently I was growling at one stage and I did have a good swish of my tail! Looking forward to seeing you in baby yoga!
Gemma and Baby Ruben

We have lovely news....Paul and I are over the moon to announce that our baby boy Ruben William James Jones is here 8lb 2oz. We hope to definitely see you again for more yoga. Without a shadow of a doubt it helped tremendously throughout pregnancy and labour and I believe, life.
It's been a wonderful experience and your couples workshop was brilliant and lovely support for Paul, who was absolutely invaluable throughout. He is our first babe and I remember feeling 'something' just as we went to bed on Sunday and then I rolled over and felt a pop, made it to the bathroom where my waters broke at 1.30am. I then sat on my ball watching Harry Potter in the dark with Paul whilst we timed contractions which came every 3 mins and remained in strength and increased in intensity. We stayed there, Paul helping me use the brilliant breathing techniques of golden thread :) having a smile and giggle in between. I enjoyed every second and visualisation helped us squish fears.
Our midwife came out and was pleased to say I was all dilated and ready and I used the pool downstairs. I breathed through the whole stage and felt the urge to push, midwife told me to go for it. I could feel his head for a while and I was told to keep pushing like never before...I can't tell you how hard I went for it! I thought I was going to pass out but still no head came out. After I pushed that hard for 2 hours they thought it best to get me to hospital. They asked me to carry on pushing there but same outcome...he didn't descend. They checked me and said I actually wasn't fully dilated! At this point I was exhausted, cold and shaky, they said I may need a Caesarean as baby may be in an awkward position. Luckily, they checked him and I was able to deliver via forceps. Up to that point I just had some paracetamol then at the very end in hospital some gas and air.
We at least got through a lot of it at home which was just lovely but I am so grateful for their help at hospital. I would it all again for a second of what we have with him, he's just beautiful and every time I look at him I think of Paul. Thank you for all your tender support and advice, it's been truly lovely. I miss my bump already but I love our little Rubes.
Katie and Rex

Just to say our beautiful baby boy, Rex has arrived safe, healthy and perfect, he's already idolised by his big brother Woody.
My contractions started late on my due date (21st) after a good 3 hours bouncing on my ball. My little boy then jumped on my tummy and I'm sure that kick started everything! This was around 7. I had a disgustingly hot curry, and some mild tightenings started. I got in the bath around 8 and within an hour, the contractions were coming every 4 mins or so, though they weren't lasting very long.
After my 3 1/2 day labour with my first, my husband was fannying around getting Woody's bag ready to take him to his Nanna's thinking we had days ahead of us. He finally got him there around 9 and by the time he got back, they were every 2 mins. I tried so hard to just concentrate on my breathing this time, called the Women's who said to come in. Then all of a sudden, they ramped up to one a minute...
After losing his car keys and wallet and having to do a u-turn for my notes (!!!!) we made it. I was around 5cm and went up to 10cm within half hour He arrived soon after weighing an almighty 9lb6 at 1.38am on the 22nd. Only had time for gas and air and no stitches needed this time. I was home for lunch the next day. The breathing definitely helped me get in the right frame of mind from the start this time round, and I found the 'train pulling up' analogy really helpful...
Thanks so much for all your words of wisdom and encouragement, Can't believe how different two births can be. Maybe my husband will get his dream of four kids after all...
Katie and Felix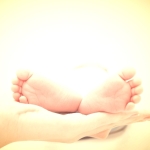 I thoroughly enjoyed the pregnancy yoga and the couples work shops I attended over the summer and found the couples workshop an excellent experience, it helped bring me and my husband so much closer regarding the bump.

My baby was born 13 days late, we've called him Felix and he's a happy little thing. I tried to keep in mind all the relaxation techniques you'd taught me over the weeks in class. I went into labour on a Sunday night at 9pm. With each contraction I was mindful of the out breath relaxing me...This helped to a point. I'm pretty sure at one point I was making noises like a moose.

After 8 hours in the birthing pool, my waters hadn't broken. I thought at this point I was exhausted. ..I was not, that came later. I'm so glad my husband had been on the couples workshop, he was my rock and kept reminding me of my breathing. At lunchtime on Monday morning, I still hadn't made full progress and was exhausted. Up until this point I'd had just gas and air, which also helped focus my breathing. I was then moved out of the birthing pool to a private room...This change in environment really set me back. I didnt feel comfortable in the new room, and made no further progress in labour so much so that at 5pm I was advised to have a c-section.

Absolutely gutted, my ideal birth plan was a home birth which went out the window as soon as I'd gone ten days over, still hoping for a natural birth in hospital though...This also never came into fruition. In surgery when they passed Felix to my husband, all my dreams and ideas didn't matter any more, I could see my beautiful baby boy. He had the grumpiest face you can imagine, he was perfect.

I can't imagine my live without Felix now.

Thanks again for such a fab time at yoga, it was my favourite part of being pregnant, you really taught me how to appreciate my baby before I could hold him on my arms.



LORENA AND BABY GABRIELA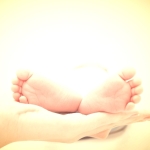 I had Gabriela last Sunday at home, it was an amazing and powerful birth in a pool at our living room, decided I wanted to have it home in the last days. Prelabour started Thursday and labour Saturday night gave birth through only six pushes at 8:41 am. I was breathing the golden thread through the contractions and the image that kept coming when towards the end I was exhausted and they were quite intense was of climbers reaching the top of Everest, felt even more epic! I was in all fours when she came out and saw her coming swimming under me... Wow... So happy though we de decided to have a home birth, felt so empowered by it.
SALLY AND WILLOW-ELISE
Willow-Elise Chappell arrived at 12 noon Monday following our wonderful couples workshop last Sunday! Dave holds you responsible for starting my labour with all your oxytocin releasing techniques... Willow-Elise arrived in rather more of a hurry than my first baby Evan. We ended up delivering her our selves at home before the midwife got to us! Thankfully the techniques that you'd taught us kept us both calm and relaxed.
The reason for her unexpected home birth was not really due to the speed of her entrance. Although the 3rd stage was very fast, I had been in labour since 10pm on the Sunday. It was more to do with the fact that with everything I had learnt to manage contractions I didn't realise how far along I was until I felt the strength of my last contractions dilating my cervix. I managed my contractions early on with just visualisations whilst resting in bed(expecting another long labour I wanted to conserve my energy) I managed to sleep quite a bit between them. Then at some point in the night I got up and started walking. I found that tipping my pelvis back opening up more space in my lumber spine really reduced the pain. In the morning whilst Dave dropped Evan off at nursery I got in the bath and managed to get myself into a comfortable squatting position where I could still rock my pelvis. Dave got home and was just packing bags for my son to stay with his nana and grandad when I realised that the contractions were pretty strong. I convinced him we should go in now, (he thought I was still in the early stages of labour) and he was putting bags in the car when I felt the surge of my body pushing.
Only when Dave dashed back to me and realised the head was nearly out did we call the midwife. So Willow-Elise arrived into Daves hands at home in the bath. It took us both by surprise and was a little scary birthing her ourselves, but it was so wonderful. Fortunatly our wonderful midwife arrived just after she was born to help us out.
I can't thank you enough for the confidence and strength you have given me to approach both of my labours in such a calm and relaxed way. As someone who thought she had a low pain threshold and had always been petrified of child birth to be able to approach both of my children's births with such excitement and no fear was quite an amazing turn around. I have had two truly wonderful beautiful births welcoming my children into the world. Without your yoga classes, and couples workshop that we both got so much from I dont think that would have been possible.
AMY AND BABY AOIFE ROSE
Just wanted let you know I had a baby girl called Aoife Rose. She had to be evicted via induction as my waters went on the Sunday and she didn't appear until the Tuesday night. Thanks to you my husband and I had a wonderful birthing experience. The Midwife who was with us had been on maternity leave herself and said she had never seen someone birth the way I did. She said it was amazing and so controlled. We used every technique you showed us, you were even in the room with us! I told you you are the third person in our marriage! We are eternally grateful to you for guiding us through the journey. Looking forward to baby yoga and baby massage.
ALANA AND BABY CEALLACHAIN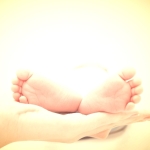 It all worked out perfectly in the end, Mother Nature on my side again and I had the best birthing experience possible. From the first 'strange' feeling to the baby coming out was 2 hours and I basically sang through the contractions (aidlevice from the sound of music!) and I breathed the last bit like my life depended on it - my mum was there for the last 5 mins and she said she has never seen anyone so calm in her life and she didn't know how I did it - again I have you to thank for that! A beautiful baby boy born at 1.30 on Xmas eve, we got home at 9pm from the hospital and all my others were asleep, so when they woke on Xmas morning to a little boy crying they said that Santa had brought them the best surprise ever! He was my biggest yet at 7lb 8 and we have called him Ceallachain (Callaghan) in our usual mad irish name style! Wishing you all a very happy and peaceful new year full of love, happiness, luck and laughs.
CATHERINE AND BABY TOBIAS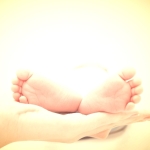 thank you for your contribution to me having a positive birth experience. I was determined that I wanted a natural birth without any pain relief/intervention and although I know sometimes things are out of our control during labour I am convinced that the techniques that I was taught on your course helped me achieve that. It was a long(ish) labour of 20 hours but only 8 of those hours were in hospital and I stayed calm and relaxed with the breathing techniques and spent the majority of my labour in the pool using only gas and air. After almost 2 hours of pushing (yes....that long!!) Tobias was born at 2.51. He's perfect. I have quite a few pregnant friends and I wanted to have a positive experience so I could share it with them and am so pleased that I have been able to do that. Of course labour was painful (kind of what you expect) but the breathing techniques helped so much and it was a surreal but amazing experience.
CAROLYN AND BABY ELLEN
From the bottom of my heart thank you so much! Not long ago id had Ava helping me practice golden thread breath, she's only five and really enjoyed the idea that she was helping me, when I went into early labour on Wednesday/Thursday before going to school she did a round of breathing with me through a couple of contractions. Things didn't start properly until Thursday night and before bed Ava had said to me, "mummy whenever you forget to breathe, just shout me and I'll stop whatever in doing and come and help you" Full labour began early hours Friday morning and each time I lost my way I thought of what Ava said and it really helped to calm me down and focus. The couples class was invaluable as Kev was such an amazing birth partner, he remembered everything we said about things hurting more when tense and remembering how to breathe. With his strength and sense of calm and focus we welcomed Ellen Rose Hart earth side at 12:02pm weighing 6lb10oz. After such a traumatic birth last time, the focus and positivity surrounding what we learned during our time with you helped me to have the healing birth I so desperately needed! My soul is healed and Ava is such a fabulous big sister!
MICHAELA AND BABY TABITHA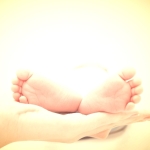 I just wanted to update you with the news of the birth of our daughter Tabitha James. Looking back I was really lucky & had an excellent birth - it has taken me almost 5 weeks to come to that conclusion though - I spent the first week in shock I think ! I began to get niggly pains in my stomach at about 3:30am - I don't think I have ever walked as much up & down our bedroom! The only thing I could do was walk & breathe as we had practised in the classes - thank God Ian had gone to the couples workshop. He knew not to disturb me as I just walked & walked & walked... About 7ish I had decided that the pain was unbearable so I got Ian to ring my mum who told me to come to her house ( I think she thought I was over reacting so a change of scenery would do me good) - we got there about 9ish... Mum took one look at me, at this point the pressure inside was so much I could not sit at all, again all I could do was roll my hips now & breathe, we made our way to hospital. I managed to shuffle into the Women's at 10am - quick examination proved I was 8 cm - quick little float in the birthing pool then some undignified squatting next to the pool, waters broke all over the midwife who decided at the wrong time to try to take a look at what was happening as I was squatting & Tabitha arrived at 12:30 - all on gas & air & copious amounts of breathing techniques!!!! 6lbs 14 oz I put it down to all of the yoga classes I attended and remaining active and keeping calm through breathing looking back the birth was alright - although the pain when the head starts to emerge is something I'll never forget but overall I was quite proud that I managed to keep it together . Massive thanks to you - I really believe the confidence & general awareness you gave to me in the classes is what got me though - never have I valued keeping calm & focused as much as that day & its still working - Tabitha loves lying on my chest while I practise my breathing - fool proof method to get her to sleep !!!! Hopefully I'll see you soon as the next set of baby yoga/massage classes - still trying to find a routine where I get dressed before mid day at the moment but we're getting there . Love to you & thanks again for all your guidance
KATHERINE AND BABY CALEB
I've been meaning to email in to let you know that Caleb Anthony Maher was born on the 28th December (2 weeks early!) at 7lbs 4oz. I had a pool birth which was great, recommend it. It was a very fast labour... From 3cm to birth was only 2.5hrs! When I fist got to hospital I wanted to stay on my feet so walked around the women's hospital during contractions for over an hr and that is why I think it ended up being so fast. He's such a cutie!
LAURA AND BABY JESS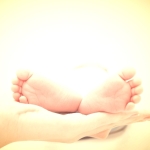 Hi Jenni Baby Jess was born yesterday weighing a teeny 5lb 4.5 oz. Another pool birth aided along the way with lovely yoga breathing and noises (which lost the yoga-calm right at the very end but sometimes volume is required!) She was out in three pushes and born in her membrane which the midwives say is very lucky Thanks ever so much for all the brilliant advice and calming words.
STEPHANIE AND BABY ELIZA
Our beautiful baby daughter was born last Monday and Eliza Poppy was 8 lb 10oz. It was such an amazing experience. We went to hospital in the morning as I had my term plus 10 day appointment. While I was being monitored I was having the odd niggle and knew something was happening. The midwife said to go home and that she expected to probably see us again later that day. I kept saying to Andrew on the way home that maybe it was just my jeans being a bit uncomfortable and I would feel better when we got home and I got my PJs on. So we went to Sainsburys so Andrew could get a pizza! As I was walking round the shop we both realised that maybe he should be a bit speedier picking his toppings for his 10 inch stone bake. When we got home he made a beautiful birthing space for me in our bedroom. We drew the curtains and listened to a few songs from A hundred Thousands Angels and it was a lovely sunny day outside and I could hear the birds and was totally relaxed. It was just so peaceful. He had his pizza. I stayed upsatirs doing golden thread breath and tried various ways to move and listen to my body - even did a bit of camel walk. I laboured at home for around an hour and half and had a tens machine for the last thirty minutes or so when Andrew suggested that maybe it was time to leave for the hospital. I was a bit nervous at this point that we might not make it but he kept reassuring me all the way of how great I was doing and reminding me to stay calm. We got to the hospital and after a very brief stop at MAU we were taken to a room in the MLU. Again Andrew made it a lovey space as best he could drawing the curtains etc - although we didn't have time to remember to take the I pod. The midwife said I was fully dilated - I couldn't believe it!! I think andrew was really proud of me. I had some gas and air and kept the tens machine on. The rest happened so quickly. I remained standing to deliever her and after just 39 minutes in the room I was looking down on the bed at my new baby daughter. The midwife passed her to Andrew through my legs like a rugby ball (Andrews description not mine) and it was lovely that it was Andrew who held her onto the bed for me to see for the first time. And four hours later all the ford family were back at home tucked up in their own beds!! Like you say Jenni I would not say it was easy, but with Andrew at my side, and the trust I had in my own body & ability made it was easy as it could ever be. At the end of every contraction I was able to relax and recouporate and could look at Andrew for that reassurance that everyting was ok. I will never quite believe what a amazing experinece it was and and what a fabulous support he was to me. Thanks again for all your imparted wisdom and positivity in your classes. I will miss them so much.
JENNY AND BABY MARTHA
Hi Jenny just wanted to share our story with you and your yogis. Six days later than expected. Despite a good pregnancy and a relatively easy labour with my previous baby I was very anxious about her arrival as I had previously had had a long first stage of labour and a very significant pph following his birth. So the plan had always been a hospital birth , although I had managed to negotiate birthing in the MLU not the Delivery Suite. I attended yoga throughout my pregnancy last time and was lucky enough to have some one to one sessions in the last month of pregnancy which helped me stay focused and positive about a less traumatic birth experience this time. I found Jenni's wise words and nurturing helped me believe that it was possible. So when my waters started leaking on the Thursday evening I was obviously disappointed, this was how my previous labour began. However we went to bed and decided to see what tomorrow brought. I woke at 5 am to go the loo and as I did my waters broke but no contractions followed. We had breakfast and at. 6.30 I started with a few niggly pains so decided to get my son collected by his grandparents just incase. By the time they left at 7.30 I had started having contractions every 10 minutes. I spoke to my mw who advised me again to wait till they were 5 minutes apart for 30 seconds. So decided to shower. By 8.30 my contractions were coming thick and fast every 2 minutes so we rang the Mw who advised us she'd be there soon. By the time she arrived it was clear that birth was imminent and that we were not going to hospital. I felt so fearful but focused using golden thread and remembered Jenni's affirmations about the power of your body and mind. So at 10.30, without drugs, or other interventions Martha was born on our Livingroom floor whilst I focused on my breathing and the summer morning unfolding outside our window. The whole process took less than an hour and there she was, all 9lbs and 2oz of her. The MW's tea was even still hot! Martha's birth laid so many ghosts to rest for all our family, especially my husband who got to fetch towels, make tea and see a more natural, calm and uplifting birth that he felt empowered by. I feel fabulous, nothing like last time, and feel so empowered by what I achieved. Thank you to my wonderful doula, one to one midwife and to Jenni for giving me the faith to believe in the power of my body and mind.
CARLY AND BABY MATILDA
Just wanted to say that I thoroughly enjoyed your yoga classes and really feel that they helped through my pregnancy helping me to stay relaxed and centered as well as helping through my labor and birth. It wasn't really the birth we had planned for - my waters had broken very slowly and after 48 hours I had still not gone into labour naturally so ended up being induced due to increased risk of infection. It took a long time for my body to react to the induction hormones but once they kicked in my actual established labour only lasted about 4 hours! It was all very intense and contractions came all of a sudden, very powerfully. I managed to get through it with just gas and air which I was pleased about (midwife said afterwards she had never seen anyone take the highest dose of the hormone drip on just gas and air!!). Golden thread breath played a major role throughout the labor and I also used some of the hip sways and pelvic movement we did in class. It all really helped! I then had a normal delivery with no further intervention and our gorgeous little girl arrived on 4.50am on 24th November. even though it wasn't what I had planned, it was an amazing experience. She is just perfect and can't take my eyes off her! I will probably see you at one of your postnatal classes or maybe baby yoga once we are ready for that.
SARA AND BABY MICHAEL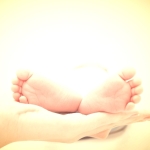 Baby turned himself around by himself on Friday and I gave birth to him just this evening shortly before 9pm. He is 3lb12oz and in the neonatal unit at the moment. A little bit of a whirlwind hence no name yet but would just like to let you know that all your breathing techniques helped me once again. Natural labour, to 10cm on golden thread breath alone with the visualisation of climbing a mountain each contraction. Gas and air for the 7 mins of pushing. Thank you for everything you have taught me and your wonderful sessions.
SINEAD AND BABY ADA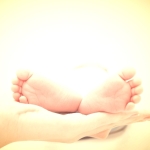 Ada was born on Saturday at 10:44 weighing 9lb 4. She is very beautiful and we are delighted with her, now have 3 daughters!!! Before you read my birthing story the ending is a happy one. I was induced, the labour was very fast and intense. At the beginning the camel walk helped and soon I was climbing mountains, however the labour progressed very fast it was very powerful and unfortunately Ada became distressed. The delivery was not very pleasant and after wards was even worse. Basically Ada's heart rate dropped, when they broke my waters they realised she had pooed, I delivered her within 10 minutes and she was not in great condition, she swallowed merconium, the cord was round her neck, they worked on her for 30 minutes but could get her to start breathing, she was placed in the neo-natal unit, thankful she made a great recovery as she pulled her breathing tubes out and started breathing on her own. She was in special care for a while and had a bad start. But all the tests showed that she had made a full recovery. Liverpool women's are an amazing hospital and we are forever in their debt for taking care of both Ada and I. My first two labours were great but this one was very surreal, but that's life. I feel very blessed and lucky. So I cant wait for you to meet our little Ada she is just gorgeous. .
VICKY AND BABY EDITH
Edie is 7 weeks now and is my absolute obsession. She was born 20/4/13 and I had a very unexpected water birth. I started contracting at home on the evening of the 19th and we went to the hospital at 3:30am on the 20th. Having had a difficult first birth I was anxious having Edie and as such had it in my mind to get an epidural. As we arrived however the consultancy led unit was full and that proved to be a great blessing. Carl and I got settled in MLU and I continued to use the techniques I'd learnt in yoga esp golden thread breath and swishing my tail. By 9am I felt I needed more pain relief and the midwife suggested a birthing pool. As a bit of a cynic and still thinking of an epidural I wasn't sold but got in anyway. The pool was just fantastic it genuinely helped and I was able to let the water take my weight between contractions and really relax. I was checked at 11am and was 6cm and really on my way. At this point the midwife left the room shortly and carl and I were left to just chill together. Suddenly I felt like the baby was coming and asked Carl to get the midwife back. Rather than press the buzzer in true man style he left the room to hunt her down. This was the only time I felt a hint of panic, but after a moment I realised I was actually ok and I could do it, from then on I was really in this zone of total confidence. Edie was born at 11:51 in the water in a beautiful calm environment. Thank you for all the support you gave me during my pregnancy and in my labour. Although not there in person you were in the room.
---
BECKY AND BABY GRACE
Anyway I thought I'd share my birth story with you - feel free to post it (or part of it - whatever you see fit) on your website & share with any mums-to-be. I loved hearing all the birth stories and found them to be a real help in mentally preparing for my labour. Having been induced, leading to a long drawn out birth experience with my first daughter, I was determined to make things as different as possible and do it my way the second time round. I started experiencing some tightenings late on Friday evening and by midnight I was convinced that this was it for the birth. I took my time in having a shower and then went to bed to try and rest for as long as possible. I think I must've known subconsciously that it was going to happen that night as I'd arranged to borrow a TENS machine earlier that day & convinced my husband it needed to be picked up there & then rather than the following morning. I was extremely glad of that & the combination of golden thread breaths & the TENS got me through the early contractions - I even managed around 2 hours sleep in amongst it all! At around 6am my waters broke & things progressed quickly after this. I arrived at the hospital just before 8am by which time the golden thread breaths had progressed to more powerful noisy breaths. Doing the couples workshop meant that my husband was well prepared to just be there and let me do it the way I needed to rather than fussing or panicking. He remained calm and supportive throughout & wasn't offended when I pushed him away. I just shut my eyes & focused on the out breath for each one. I remember hearing one of your previous birth stories where a mum had counted the number of breaths for each contraction as 6 & so I was counting them through knowing that after number 3 or 4 each one would tail off & I'd be one step closer to meeting my baby. I also started with some of the gas & air (which I was never offered first time). As well as taking some of the edge off the contractions, it was another tool in helping to focus and regulate my deep breathing. As I'd hoped, the birthing pool was available and at around 9am I got in the water. I was able to kneel and 'swished my tail' at this point. Once I got to the pushing stage the out breaths became primal growls and with my eyes closed I pictured my baby getting closer with each one. Grace Agnes was then born at 10:17am. I never understood anyone who had said they'd enjoyed birth before but looking back it was the most positive, life-affirming, primal experience I can ever recall. I even think I might do it again! Jenni, thanks so much for all the positive support and advice that led to this experience - it was absolutely invaluable & I can't wait to bring Grace to meet you in baby yoga!
---
CLARE AND BABY CONRAD
I have been meaning to email you to let you know that my son was born on 2nd October 2014, he weighed 7.5lb and we have called him Conrad.
I wanted to thank you for the one to one session that Stuart and I did with you early August, we both agreed that it had an incredible influence on us and the birth of Conrad. Anyway Conrad arrived naturally into this world 9 days early. I laboured without any pain relief at home (slow labour) breathing through the erratic contractions I was having and using different positions and walking (like you taught us) from 4.30am Weds 1st Oct until they gathered momentum on Thursday 2nd Oct around 6.30pm and my waters broke. When I arrived at hospital that evening they were reluctant to examine me, I think I was too calm and I don't think they thought I could have dilated as I hadn't had any pain relief. After witnessing my contractions they agreed to examine me and I was 4cm! I was put on an ante natal ward for the night but 45 mins later, I called the nurse to beg for gas and air - I actually thought this was my pain threshold giving in but no it was transition! I was quickly given the birth pool and 55 mins later Conrad come into the world. It was an amazing experience! Stuart and I both agree that the session we did with you helped to keep us both calm, importantly for Stuart to know his role in the birth and how he could help me. I will be recommending you to everyone I know who is having a baby


---
Sophie and baby Betsy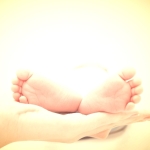 Just a little message to let you know I had the baby! Little Betsy arrived on tues afternoon at 3.14pm weighing 7lb 9oz! Perfect labour (according to the midwives) just had gas and air and focused on my breathing so thanks so much for teaching me how to breathe! I will be seeing you at the baby massage class and you can have a little squeeze of Betsy. Lots of love xxxx
---
Amy and baby Darcey
Apologies for missing yoga on Monday again but you will be pleased to hear this was all for a very positive reason!
After a pretty perfect pregnancy things became complicated in the last week so very surprisingly I ended up being induced on Monday afternoon. Shortly afterwards Darcey Louise Thomas was born into the world at 8.15 am on Tuesday 12th November weighing 6llbs 10 3/4oz. Although not the water birth or natural delivery we would have wished for we are fortunate and grateful to have her here safely and soundly, she is just perfect.
Both myself and my husband Rob would like to say thank you SO MUCH for playing such a large and fantastic part of my/our pregnancy. Mondays will not be the same without your calming influence. Pregnancy yoga has been invaluable not only to bringing our little one into the world but in the chaos of daily life. My golden breath will serve me well. You really have taught me many things I will remember for years to come. I honestly believe that thanks to your support and attitude it allowed me to remain calm when things got particularly hectic throughout a slightly stressful delivery. I will be in touch and I am looking forward to baby yoga in the new year and what new adventures life may bring,
We can not thank you enough,
---
Gemma and baby Anya
Just to let you know little Anya Rose was born on 21st June, 7lb 7oz and she is prefect, I had a long tough labour as she was back to back and after 2 full days in labour I ended up in theatre needing a little help to persuade her to make an appearance. It was a very intense labour as contractions started 4 minutes apart and with Anya being back to back painful wasn't the word!! But I'd do it again in a heartbeat. we are delighted and so smitten with her. I survived for many hours using gas and air and my yoga breathing and would like to Thank you for all what I learnt in your classes.
I would highly recommend your pregnancy yoga and we both enjoyed your couples workshop, Karl was amazing in the delivery room and managed to keep me calm.
---
Katie and baby Blake
Blake Vincent Bird came a week late on Monday 22nd sept. We're all doing really well, had a really positive birth experience. Went into labour Monday lunchtime ish, went to hospital at 5.30. Did lots of breathing and camel walking at home. The first midwife who saw me was going to send me home as she didn't think I was in established labour but when she examined me at 6.30 I was 5cm. Managed on gas and air and Blake was born at 8.13pm. We were home again by midnight. Breathing and relaxation got me through again so thank you once again.
---
Louise and baby Max
Happily though Max Joseph Sheridan arrived 25th July 10 days late (tardy timing like his brother) induced in the end and a whopping 10lb7oz!! A new personal best 1hr 50mins and all natural! As before the breathing exercises were fab - the midwives couldn't believe I did it without pain relief but it all just clicked into place just like last time. He is a joy and v chilled out - sleeping like a dream! Looking forward to catching up at baby yoga which I will book online
---
Melanie and baby Rufus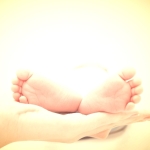 I hope all is well with you and you are enjoying the new pregnant yoga courses. I have to confess I am missing my Monday night yoga already!! Anyway I just wanted to let you know that on weds pm I gave birth to the magnificent Rufus. He weighed in at 7ibs 10ozs and took 27 hours to make his appearance. Golden thread breath and swishing my tail helped loads. Thanks for being a brilliant birthing mentor and yoga master and I look forward to baby yoga with the boy soon..
---
Joanna and baby Annika
I just wanted to email to let you know that baby Annika arrived on 27 Oct at 5:54am weighing 5lbs 12 oz. We had the home birth that we wanted and I spent many an hour in labour using the breathing and relaxation that you taught me in the pregnancy yoga class. My labour was three days because Annika was trying to turn around but I felt happy, confident and relaxed through the whole process - I really think that was down to the preparation and techniques which I learnt with you, so thank you :) It gave us the tools and confidence to stay in control in our own home, and it gave us and our lovely little girl exactly the start in life that we wanted for her. I'd like to come along to the baby massage and baby yoga classes that you do in due course so if you could send me the next course start dates when they are up on your website I'll make sure I book onto them.


---
Caroline and baby Jackson
I was so convinced that the baby wouldn't come until I finished work that I tried to convince Simon that I was in false labour for two hours! After 6 hours at home 'relaxing' in the bath and in the bedroom swishing my cat's tail I thought it was time to go to the hospital but at that point realised that I needed Simon to focus solely on me so I asked him to call an ambulance as I didn't think I could sit in our car. The ambulance arrived and thankfully Simon was able to keep me calm and relaxed en route to the hospital. I had my first hit of gas and air in the ambulance - oh how sweet! I've since heard along the grapevine that ambulance's gas and air might be stronger than the hospital's due to increased pressure so I only needed a couple of hits! It was quite strong so I couldn't walk into the women's so I was stretchered in - oh the glamour! Upon arrival to the MLU Simon tried to ask the midwife to read our birth plan but it turned out that there was no time for that as I was ready to breath out little man out. All of our great practice since Christmas meant I ujjayi-d breathed our baby into this world in 20 minutes!! Jackson George William was born at 5.20am on 4th May after 7.5 hours of labouring. It was a very intense labour as surges started 4 minutes apart but it was a very positive experience and I'd do it again in a heartbeat. we are delighted and smitten with him! It's hard to believe he's only 11 days old.
Thank you for all of your help and support throughout my pregnancy. I've loved all of the classes and our couples session! Ill be recommending you to all pregnant friends. I can't wait to do the baby yoga and baby massage classes. Thanks again for everything.
---
Caroline and baby Alex
A quick email as things manic we had a gorgeous liitle boy Alex the labour was tough but I did it with gas and air and dia morphine in the end was painfull but yoga definatley helped me to be calm and breath.
I keep saying hes my little bird from noises he makes and he only tiny 5lb 12 love him soooo much.
See u at baby yoga in the future
---
Penni and baby Will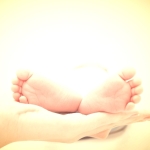 I was in slow labour for 5 days and then the midwife accidentally broke my waters. I can't thank you enough for your amazing pregnancy yoga course. My 6 hour labour was so calm and I remembered everything you said about the golden thread breath . It really saw me through the whole thing and kept my pain at bay, with the help of diamorphine! The midwife said it was one of the most calm and relaxed labours ever. Until it got to the pushing part. I pushed for 2 hours but my little man was back to back with his head completely stuck in the wrong position. I was rushed to theatre for an emergency Caesarian where I had to have a general anaesthetic. But at least Will was safe.

Also Dave can't thank you enough for your couples workshop. He was amazing in the delivery room, all thanks to you.
---
Lucy and baby Finn
Just to let you know our sweet baby Finn arrived safe and sound in the early hours of Sunday 27th April weighing 8lb 11.

The birth was so much quicker and easier than last time when I had Nancy...I was using golden thread breaths throughout. I remembered you telling us that one lady counted how many thread breaths it took to get her through each contraction so I did the same...it was 6 for me! It really helped keep me focused and Finn came out of his own accord after just 3 hours in labour.

I had a fantastic midwife at the women's and didn't need any pain relief other than a few puffs of gas and air...but I even found that was getting in the way of my breathing and just forgot about it in the end.

Our son is gorgeous and I'm so happy that I managed to hold it all together during labour...but that was all down to you and what I learnt from your sessions.

Thank you so much and hope to see you soon in baby yoga.
---
Clare and baby Maisie May
I won't be at yoga tonight afterall. Maisie May came a little early! 36+6. I'm delighted to say I had a normal birth with just gas and air. Golden butterfly's and mountain climbing all the way. Couldn't move as baby was only happy when I lay on my left so breathing really helped. I managed to stay mostly relaxed and laboured quickly in 10hours.


Thank you for all your advice and I'll hopefully see you at a baby yoga soon.
---
Linda and baby Ernest
I hope you are well. I am happy to let you know that Ernest Arlo Tibbwood was born yesterday evening at the Women's Hospital and weighed 8lbs 10oz. He has very striking looks - red hair and blue eyes. Obviously I think he is perfect! I did a lot of walking, rocking and swishing during the contractions walking round the lake in Sefton Park, at home and after transferring to the hospital. Daniel was really calm and there was a lot of massaging - definitely thanks to the couples workshop.
---
Katrina and baby Gianna
I'm sorry I couldn't make it to yoga last week, I did have a good reason though, I was busy giving birth to my beautiful baby girl! She was born at 9.15 pm Thursday 3rd April weighing 9lb (not much of a surprise, I think we all knew she was going to be a healthy size!) 2 weeks early as well so glad she decided to make an appearance when she did! We've called her Gianna, Gigi for short.

I was in labour from around 11am and managed to get through it all without any intervention or drugs ( I even shuned the gas and air as I was feeling really nauseous and couldn't stomach it) I have to admit there were a few moments when I thought I was going to lose it, but James was great, he really took on board everything from the couples session and helped me come back to my breathing when I needed it. When things got really intense I found myself thinking ok I have to seriously go into some kind of 'zone' and find a way through this or i'm going to lose the plot, it was around this point that I found standing up and leaning over the bed whilst rocking my hips from side to side was THE position for me, I put my head down on my hands and just blocked everything else out and focused on my breath and visualisation. I golden thread breathed my way through each contraction, focusing on pushing the contraction away with long out breaths and visualising riding the crest of a wave with each contraction, once I got control of my breathing I knew I was in control of the pain and I just handled each contraction as it came trying not to think ahead about how long or how many more I had left.....and before I knew it I was pushing my baby out!

I heard your voice in my head a number of times guiding me through and I am 100% sure that the reason I got through it so well and stayed so focused and in control was down to not only the techniques I learnt from your class, but the confidence that I had instilled within me that I could do it, that women are incredible beings capable of miraculous things. I was able to trust my body and ultimately it was my body that brought my baby, I didn't decide when I needed to push, my body just did it and before I knew it my beautiful girl was in my arms.
James also said at the end of it all "thank God I went to that couples yoga coz if I haven't there would have been a different person in the room with you" he said that it wasn't that he felt he knew what to do, it was that he felt he had a much better understanding of what was to come and what I was going through and then ultimately what I needed from him, which made him really calm and confident the whole way through the labour, he was honestly my rock and I couldn't have done it without him.

So thank you so much, sorry this has taken a little while to get to you, time flies when you're a new mum! It's amazing how consuming this new little person is, if i'm not feeding or changing her, i'm staring at her in disbelief that she's mine! I've attached a pic so you can finally see the little girl who's been coming to your classes for the last 5 months.

Thanks for everything Jenni, I will definitely be seeing you soon in baby yoga!
---
Paula and baby Seth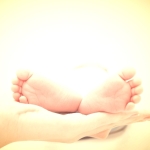 We arrived home with Baby Seth on Monday. He was born on Saturday just before 8pm weighing 7lbs 2.
We didn't get the natural birth we planned due to baby being back to back and having dips in heart rate after contractions (which we later learnt were due to him having a short umbilical cord and the placenta being high up). We had an emergency c section and feel hugely blessed to have brought home a beautiful baby.

Thank you for your support at the yoga classes and couples class, the things you taught us helped me to stay calm and active during the early induction process, to deal with the pain through breathing (particularly golden thread breath) and helped Shaun to know how he could support me when things got tougher. The calm that you pass on at your classes will stay with us during our first weeks ahead as we get to know our little boy.

I hope to see you soon at Baby Massage or Baby Yoga (or quite possibly both!).
---
Emma and baby Tadhg
Baby boy born 2nd March 8lb 11.5 oz.

Tadhg is a dream, so chilled.

Labour was less than four hours and was pushing for 12 mins. The yoga, relaxation techniques and breathing really helped.

We're having a great time.

Hope you're well, see you for baby yoga when he's awake enough!


---
Jessica and baby Martha
How are you? This is just a quick email to let you know that my little one finally arrived on Friday 21 March 2014. I had a little girl and we have called her Martha Elizabeth Wherley. She took her time, coming a week late. I was all ready to be induced as she didn't seem like she was going to make an appearance anytime soon but she decided she was ready on the 21st :-).

My labour was very straight forward and I don't think I would have got through it without golden thread breath which really helped me cope with the contractions. The couples yoga also really helped my partner and he used lots of the techniques you showed us to help comfort me...I couldn't have done it without him! I also used the pool which was lovely but got out to have my little one on dry land :-). After 12 hours she made her grand entrance at 11.12pm weighing 7lb 10oz. Labour was the hardest thing I have ever done but worth it when the reward at the end was meeting my beautiful little girl.

She is nearly three weeks old now and doing really well :-). We are still trying to get to grips with everything but trying our best.

I really appreciate all the help, advice and techniques you shared in your yoga classes I don't think I would have had such a good experience without them.

Thank you for everything!
---
Natalie and baby Samuel
Just wanted to let you know I won't be at yoga tonight as we've now welcomed our little boy!!
Samuel Stephen Kirby decided he'd had enough of waiting and wanted to meet us last Wednesday, at 7lb 5oz (jus less than a week early).

He's our angel and I'm just captivated by him :)
The early days are hard but Samuel is doing really well and mummy is recovering slowly.

My waters broke on Tuesday night and labour started naturally, but slowly, and ultimately because of concerns about my high blood pressure we were induced to get things moving along rather than risk problems.

I started on the drip at 1pm at 2cm dilated, at 5pm I was 4cm and then all of a sudden at 6pm I was 9cm and we were ready to push minutes later! Samuel joined us just after 7pm.

It was tempting sometimes to panic as I knew it was being forced but Yoga really helped to keep me feeling in control during this and focus on each contraction as a step closer to our baby. I brought to mind all of the positive things we have spoken about in class and swishing my tail and breathing with sound really helped me I think :)

You are absolutely right, it's a long days work, but SO worth it!

Please wish all of the ladies in class the very best for me and I'll see you soon!
---
Lynsey and baby Finn
Just thought I'd send a little message to let you know that I had my baby boy (Finn) on 18th March! My waters broke in the early hours so we went straight to hospital. I had to wait 12 hours for my caesarean during which time I experienced labour pains. The breathing techniques I learnt in yoga really did help me get through this. My hubby was really supportive and I taught him the back massage from the last session- he did well!

The caesarean was as good as I could have hoped with the main thing being that my partner and I were together for the birth, something we had missed out on last time. When we heard Finn's cry, it was the best feeling in the world!

Thanks for all your support through the yoga sessions, they really did help me to deal with the traumatic experience of my first birth experience and help to focus me and keep me positive about this time.


---
Abby and baby Geogia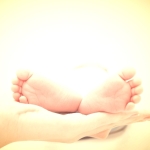 I decided from early on in my pregnancy that I was going to have a calm and relaxed birthing experience. I didnt listen to any negativity surrounding pregnancy or labour, I ignored horror stories about swollen ankles, indigestion, back pain and switched off when people regaled about their own horrific labours. I instead read lots about positive birth experiences and looked into hypnobirthing. I wasn't 'lucky' to have had the experience that I had - I worked extremely hard for it. I worked hard at relaxing! My husband joked that my preparation for labour was similar to an athlete preparing for the olympics - except that my event was relaxation! When I found Jenni Jones it really was the icing on the cake!

I participated in her couples workshop which was an incredibly emotional experience and helped prepare us both for the birth. At 34 weeks I stopped my usual ashtanga yoga sessions and started a yoga course with Jenni. Each week it gave me time and space to truly relax and enjoy my pregnancy. It also further prepared me for a calm and relaxed birth.

I want to share my birth story simply because it was such a positive experience and i don't think women are told enough of stories like mine...


After a beautiful pregnancy my labour started slowly and calmly. The contractions that I felt were strong and smooth and I welcomed them with excitement. I remember strolling around Sefton park chatting to my friend and going to yoga feeling absolutely incredible, knowing that this was the start and that soon I would meet my baby!

In the early hours of the next morning my contractions deepened and I started to breath through them, long slow calm breaths. I spent the day as comfortably as possible, bouncing, walking, rocking, and resting in the long gaps between my contractions. As the day progressed, so did my contractions but it was a slow and gradual progression that allowed me to adjust to each new feeling making me feel confident. When the midwife, Kayleigh, arrived I moved downstairs and although the contractions were stronger now and harder to breath through, i remember feeling in total control. Surrounded by my husband and close friend, the atmosphere was happy and calm and i concentrated on my breathing. I made no sound. When it was difficult, the gas and air helped me through. I was so calm and focussed that the evening seemed to whisk away in a blur. I don't remember details or even being aware of the time I was just so focussed on my breathing. It didn't feel like long before Ben was preparing the birthing pool. I remember getting into the pool and feeling at once unbelievably comfortable - the water supported my weight and eased my back. Ben poured warm water over my belly too which felt lovely!

The next phase of my labour was hard. Georgia's birth was long and slow but Kayleigh was reassuring and encouraged me to listen to my body (she also advised me to take my bikini bottoms off first!). When I felt that undeniable urge to push, i did. And every push brought with it an earthly roar that came from somewhere deep inside me. I remember only that there was support all around me, everybody encircling the pool encouraging me and reminding me that each push was bringing me closer to my baby.

It was in the early hours of the morning that Georgia did finally arrive. While i pushed her out from inside me I was simultaneously pulling her towards my heart with my arms. i was the first person to touch her, to feel her and to hold her.

It was such an incredible experience and, up until that point in time, it was the best moment of my life. However since then there have been many more moments that far outweigh this in comparison. The first time georgia recognised my voice, when she first smiled at me after waking from a nap, her first giggle, and the way she looks at me, every time she looks at me, is just more amazing than words can describe.
---
Gemma and baby Luca Daniel
Laura asked me to email you to share my story with you following my yoga classes.

I honestly felt that the classes really helped during my labour. I started with contractions at 2.30am, 3 days after my due date. It took me a while to register 'this is it' but remember you saying to think of them as a train coming towards you and pulling away which really helped me focus. I used my yoga ball for a few hours always concentrating on my breathing.

Around 2pm I headed to hospital and was 5cm. I was lucky enough to have a pool birth and would recommend it. Once in the pool I breathed through my contractions with the aid of gas and air. It's difficult not to hold your breath when the contractions are coming thick and fast but focusing on the in and out breath got me through.

At 20.48 Luca Daniel Odonoghue was born in the water. He is the most perfect little boy weighing 8.8lb. My husband and I could not be happier. I can't wait to introduce him to baby yoga soon :)
---
Nicola and baby Louis Alexander
Just to let you know I gave birth to Louis Alexander Harris on 2.3.14 at 10.33pm weighing a whopping 10lb 7oz

I laboured at home from 6am -8pm mainly in a hot bath, did lots of golden thread breath breathing through the contractions and lots of tail swishing too.

I'd had a major wobble at 36 weeks and considered a c section and was seeing consultants regarding my request as I just became so afraid of the birth. I'm so glad I went into natural labour as the thought of a section now is so unappealing.

I arrived at the hospital at 8pm and was 8cm dilated and got straight on gas and air. Before I pushed I was given diamorphine as it was obvious he was goin to be big. Half an hour of pushing and he was born, no tears or stitches and he is perfect.

I honestly think my yoga experience helped keep me calm and breathing properly to be able to labour so long at home without pain relief.

Thankyou for your wonderful classes.
---
Marije and baby Elin
On Thursday 6th I had Braxton-Hicks contractions throughout the day... by 4.30pm I couldn't remember that I'd felt my little girl since the morning. I was worried and called my midwife who advised me to go for a checkup to the hospital. Upon arrival, baby was jumping around in my belly. So, everything fine! They monitored her heart and after half an hour we were sent home. Relieved.

Still, we were sure it would happen that night. We parked the car in front of our building (our usual car park is a 10 minutes walk) and had a quiet evening. Following everybody's advice we went to bed as usual trying to get as much sleep as possible. Contractions had started but were weak and irregular.

At 2 am I woke up with in a 'pool' of bright red blood. We got dressed - took our bags and were happy the car was just outside. 20 min's later we arrived at the hospital and we were sent to the Maternity Assessment Unit - and referred to the Delivery Suite an hour later. Baby's heart was fine, but my blood loss concerned them. The midwife, Emily, welcomed us and assessed me. I was 4 cms dilated. Contractions became heavier and more regular but usually they came in waves of 3 to 5 regular ones, then a break.

By 5 am a doctor came and broke my waters to speed things up. Contractions became much heavier now. I couldn't stand the 'noise' of gas-and-air and refrained any other pain relief. Instead, I tried to breath everything away. It was quite successful. My partner helped me whenever I had a moment that I lost the focus of breathing (thanks to the partner workshop we were both very well prepared and confident as a couple what to do). I kept thinking of the most beautiful place where I went to every time at the "top" of a contraction. And I reminded my little baby girl that she wanted to go there too.

By 8 am I was assessed again by the new midwife, Anna - a golden person! I had remained at 4cms. The room was 'flooded' by my waters and I was so exhausted. I asked for an epidural - because the prospect of another 6 to 10 hours (to reach 10cms dilation) was too much.

Unfortunately, another patient had just asked for an epidural too and an emergency came in as well. In the end, I'd only have the epidural by 1 pm - I was 5cms dilated. All the time, we were trying different poses and breathing. I used many of the yoga techniques and perceived great relief by bouncing on the birthing ball.

The anesthetist was golden - I didn't feel anything. And the epidural gave me pain relief at around 2 pm. I was exhausted and first slept for an hour while my partner went outside to get some fresh air and some food. Together with the epidural I also received some hormones to support the contractions. By 5 pm I was dilated 9 cms! Yippie! And I had gained some new energy as the pain had gone. All the time Anna called the help of doctors because my contractions remained unstable: waves of 3 to 5 growing contractions - then a break of 5 to 8 minutes. Baby's heart dropped and recovered but not always as fast as they wished.

By 7 pm a last doctor came and 'turned' the baby's head so that she was lying in the ideal birth position. By now, the midwife Emily came back for her second night shift and Anna went home. Emily guided me to push during contractions, because I couldn't feel their beginning or ending. Pushing went fast. Sometime midway I could feel baby's head with my hand between my legs. This was amazing! At 20.26 on the 7th of February Elin was born. She was put on my chest and she rested there while she received a good rub. 40 mins later she was crawling towards my breast to get a first feed - we were successful.

Another doctor came to give me some stitches - my ioni was intact but the labia needed a stitch We had to wait until 3 am before we could go back to the ward. It took quite some time before I could feel my legs again and was stable enough to stand/walk on my own.

On the ward we fell asleep immediately - my partner had brought his camping mattress and spent the night next to my bed and Elin's cot.

On Saturday morning we woke up, with our Elin.

As a whole, the birth was much more clinical than I had hoped it to be. I had envisioned a pool birth and was confident I could 'do' it all without pain relief by focusing on breathing and a powerful mindset thinking of beauty. I am thankful for all the techniques I learned at your class, because I would not have been able to take the first 12 hours until the epidural came- I remember "swashing" (?) my foxtail. The most important is that during all of it, my partner and I became even more closer than we'd already been. And all of it culminated in the birth of our little Elin! Happiness and love ever since have not left us. We're home and enjoy the beauty of being a family.
---
Bernadette and baby boy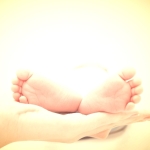 Just wanted to let you know, we had a little boy on the 2nd of feb! 7lb 12.5 oz!

All resonably straight forward really! I woke up on the Sunday morning felling a bit odd! (I am always odd, but odd for even me), decided I would have a bath after I a few pains, so got in the bath about 12 (after cleaning the bathroom...total nesting), by the time the bath had run I was getting proper contractions about 7 mins apart, using ugia breath and golden thread breath each time!

Got in the bath and they came quicker! About every two mins, took some paracetamol and got my other to get all the final bits for the bag! My plug went in the bath (with a pop... That freaked me out a bit), got a hand out the bath and camel walked round the house with Stan attempted to make a cup of tea (that got left with the water and the bag in) and as he was putting the bag in the car my waters went, so off to the hospital (whiston),

Got there ok again using the breathing each time I had a contraction, unfortunately the baby had pooed inside me so had to be strapped to a monitor the whole time, so no more camel walking, but I did not want to be on my back it was to painfull, so I got on a birthing ball, the bounceing and rocking my hips (like an adaption of camel walk) helped!

Anyway at 11:40 he was born!

All happy and heathy !!

As well as the breathing my top tips for labour, frozen capi sun (ment I had a very cold drink with a straw), lip barm and foxes glacier mints (the gas and air really dries your mouth out!!!)

Thanks you for all your help we are looking to book onto your baby classes now, so like forward to seeing you soon
---
Victoria and baby Emily
Well she's here!!!!!And her mummy & daddy have fallen head over heels crazy in love with her.

She decided to make an early appearance on Monday 3rd March. My waters broke at 5:30am in bed & in my befuddled haze I was trying to get fresh sheets to remake the bed!!!!Contractions came quite quickly afterwards & there was quite a lot of camel walking & golden thread breaths going on across the landing. At 7:30am I told Andy to go to work for an hour as I just needed to be on my own for while like the mama bear you talked about in class. By 9am we were at the hospital & we found Emily was still breech. So it was plan B....an emergency c section. However all our work in class didn't go to waste as I had a few more hours of labour before I was sent to theatre. So it was back to the golden thread breaths to get me (& Andy) through the contractions I visualised myself going up that mountain & then resting in the valley when each one was done.

At 12:33 our beautiful angel Emily Louisa was born to the sound of mummy & daddy telling each other how much they loved each other (sounds cheesy but its the truth) & Peter Gabriels Salisbury Hill playing on the radio in theatre. The most perfect moment of our lives!!!

After 2 days in hospital we came home & she has been a little gem so far, letting mummy & daddy sleep. We didn't think it was possible to fall so head over heels in love so quickly but oh my word have we fallen in love!!!!

Thank you so much for all the support, the pregnancy yoga classes were fantastic & Andy enjoyed the couples class so much,he would recommend it to any dads to be.

Can't wait to introduce you to her at Baby Yoga/massage in the coming weeks/months
---
Kate and baby Luisa
Delighted to announce the safe arrival of Luisa Ines on 5th March, 2 weeks late! Being half Brazilian, she was waiting for carnival to make her grand entrance, and I went into labour at 11pm on mardi gras :) Laboured all night using tens machine and breathing/visualisation techniques you taught us - went into the Women's at 7am with contractions 3/4 minutes apart and into the pool with gas & air, which was great! After I had got very tired pushing in the pool for several hours, baby Luisa was eventually born with the aid of ventouse at 4.45pm. The reason for the difficulty in pushing revealed itself - she was 10 lb, 9oz! Biggest baby ever delivered by the doctor on the midwife-led unit apparently...!
Birth is an unpredictable business, but I feel very positive about my experience and would not change anything. A big part of this positive result was getting myself in the right mind space, tuning out distractions, and being in the zone with breathing etc - all very helpful stuff :)
Thank you, and good luck to all the yoga ladies who are still expecting their little ones!
---
Sadie and baby Rudy
Spring has sprung and I'm so in love, little Rudy and my other two lovely boys Frankie and Cass make my heart skip, my other fella Jay does a good job too, life is good. I said I would give you my tale so here goes...

As you know at seven days over I was getting impatient and full of questions why this babe was taking so long. I emailed you, then Selina and was spending much too much time staring at Google like it would provide psychic answers. Anyway, I took the dog for his normal walk - and some. Through swampy fields and over every hill I could find in Sefton park. Few niggles but of course I wrote these off as Braxton hicks or just babe having a bounce on my cervix. Popped into the hairdressers for them to save my fringe and was told to come back that afternoon. Selina phoned to say she could pop round and do a bit of rebozo which was lovely, so relaxing and felt like babe might just get into position. With hindsight, a big "niggle" just after which left me breathless, written off again as a Braxton. Jay and kids came home, did the tea, put Frankie and Cass to bed, couldn't move out of Frankie's bed for another "niggle" but obviously I still wasn't in labour. Jay made huge tea whilst I rolled my hips and did your entire yoga class in a bid to get things going. Decided laughter was key so put Alpha Papa Alan Partridge on, you would've thought it was an oscar winning comedy from my howls of laughter, I think jay was embarrassed. Few more "Braxton hicks" before bed. Woke at 2 and had to swish my tail with a good few golden breaths. Tried to ride these surges out as I was obviously not in labour. Finally decided at half three to wake jay and tell him to drop kids at his mum's. Off he went thinking I was being a little rash. He returned to me on all fours doing all I could to slow things down, breathing, swishing, doing a lot of lowing like cattle (my worst bit of yoga due to my awful voice, noise work, was what got me through). I, in quite a polite and reserved manner, insisted jay got the midwife round or he would be delivering the baby himself. Half an hour later, the midwife was lost somewhere on our road and I had the biggest moment of clarity. One voice in my head was telling me "I can't do this" on a loop, then the intensity of contractions stopped and there was a lull, like a wave of silence and tmi but I needed a poo, sorry but true. This was it, from all you've taught me, transition was here and I could recognise it like I'd never done with my other two. Right, quick trip to the loo then onward was my thought . As I got into the downstairs loo, the midwife rushed through the front door, I shouted my apologies and said I would be in in a sec. I quickly retracted this statement with "quick Georgie, it's not a poo, it's the baby." She ran in, babes head was out and with her help I breathed the rest of our little boy out. No pushing which I was most amazed by!

So, Jen, thank you for all your teaching, love, support and belief in your students. Without everything you invest into your classes I couldn't of done it. It was full on and could easily have become scary but you gave me the power to get through what was my quickest and most intense labour yet. Thank you so much, you are a good friend and amazing teacher to women throughout Liverpool.

See you with little Rudy for massage and yoga soon, lots of love, Sadie xxxx
---
Karen and baby Leo
I just wanted to let you know that baby Leo Thomas Carswell arrived in the early hrs of Wednesday morning (1.41 am) weighing 7.7 llb's.
I got checked by midwife the day after yoga class and was dilated with no contractions !
An hour after she left the contractions started (3.50pm) I put the tens machine about 6 pm after spending a couple of hrs breathing my way through the contractions as they got stronger. I found the stretches on my hand and knees really helped wishing my tail ,which is how Stu found me when he came home from work.
We had some tea which I struggled to finish as the contractions were coming thick and fast then Stu blew up the pool. The midwife arrived at 8pm and had called another to come straight away, I stayed on rug till about 10pm using the tens and gas n air then got in the pool. The midwives lit candles all over the room and de-camped to the living room leaving me and Stu to it, we worked together him being a constant source of support and reassurance .When the pushes started I found myself practicing the Yoni breathing to help him down the path (I said you'd have been proud of me you had been trying to get me to make those noises in class for the last 27 weeks !)


I had your breathing cd on for 5 hrs just reminding me how to breath and I found it really comforting and reassuring having your voice there guiding me through...
Leo took 2 hrs to arrive in the pool he was so chilled not distressed at all and I couldn't believe it when I was holding his little bum in my hand after feeling it protrude out my side!
I'd like to say a BIG THANKYOU to you for all your help and support especially encouraging Stuart to come to the couples class as he was nervous about the whole home birth scenario. He felt like he was more comfortable with the whole emotional support side of staying at home and how with the right environment a baby can make their own way here..

Now we have been blessed with a beautiful baby boy and I can't stop staring at him or singing "your just too good to be true" at him (then promptly crying,with happiness )
---
Sara and baby Emma
Just wanted to let you know that Emma Louise Salter arrived on 15th January at 3.19pm (3 days earlier than due date).

I started contracting at approx 5pm on 14th. Instead of staying at home, Mike and I went out for dinner with friends and whenever a contraction would come I would stand and rock from side to side using golden thread breath.

Once we arrived home, I continued rocking from side to side and the camel walk across the landing using the breathing techniques. At 5am, we finally went to the hospital to find that I was 8cm dilated. I was completely active through to 10cm using everything you taught me at the yoga sessions. Furthermore, Mike was my rock throughout, using everything he learnt at the couples sessions, massaging my back and being my support when I was bearing down.

Unfortunately, I couldn't have the natural birth that I wanted as when my waters broke near the end they were filled with meconium. I was then attached to monitors whilst being prepped for a spinal block. I finally got to meet my beautiful daughter in theatre and was blown over when I got to hold her skin to skin for the first time.

I am totally in awe and empowered by my labour experience with Emma and amazed what the human body can do with merely breathing and focus of the mind.

I don't think my labour experience would have been the same if it wasn't for the techniques you showed us in the classes. Thank you xxx
---
Lena and baby James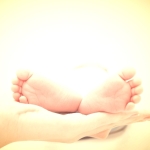 I wanted to let you know that I had my little baby boy James Benjamin. He arrived in the early hours of Friday morning 10.1., 4:15am and was born at MLU of LWH.
I woke up in contractions at 3:09. I actually dreamt about different levels of pain.

I woke up my partner who dealt with calling the hospital and picking up our babysitter (I have three more boys at home!). In the meantime I was doing camel walk and deep breathing techniques all around our kitchen. Contractions were very regular and strong.

At 3:38am we were in the car going towards the hospital... I had contractions in the car and it was difficult to relax in the sitting position, but I remember trying to breathe deeply and relaxing... Then I had contraction in the parking lot of LWH, lift, and finally corridor of MLU. At this point I was at all fours... We got into the room and after 3 or 4 more contractions, the baby came out. I was at all fours on the bed... Very quick birth. We did have an issue with shoulder dystocia - which happened with my previous son as well - but it was all very well handled by the midwife and he was out in no time. No panic at all. Big baby 9.7lb

Unfortunately, after such a splendid birth, I had retained placenta and ended up in the operating theatre... I did read since that precipitate labour can lead to heavy bleeding and other complications like retained placenta... But team at LWH in the operating theatre was just brilliant, music, laughs, and I was re-united with baby James in no time...

We are both doing well... He's so sweet and loving, full of delicious newborn cuddles.
Thank you for pregnancy yoga sessions.
---
Jo and baby Jack
As the maddness had lessened an the visitors aren't as frequent I have time to tell you about my whirlwind labour!!!

As my due date came and went.. I had no signs at all my baby was on his way! Each day I felt the same and so kept busy, and used some of our yoga positions to help me get comfortable as I got heavier and heavier!! Three other ladies from yoga contacted me to tell me about their beautiful arrivals.. I couldn't help but feel eager for mine!!

So on Saturday 4th Jan.. A week overdue I had some mild back pain.. I got Craig to rub my back... As shown in couples yoga! And felt relaxed as I lay infront of the fire. Out of nowhere I felt something happening... Then my waters broke.. When I say broke I mean broke! They gushed ! Making it to the bathroom to my shock they were brown so I did begin to panic for my baby, as I knew this was mecconium.

From that moment the race was on to get the the Women's hospital, I was assessed and was already 5cm! I got taken to my room were my contractions came thick ad fast! My birth plan to be in the birthing pool couldn't happen as they had to monitor baby due to the mecconium, but I was always lenient about my plan anyway, I knew it wast set in stone so I wasn't too bothered aslong as my boy was ok.

I had gas and air throughout, and as my contractions were so close and baby really wanted to make an appearance eagerly it was too late for anything else really so my breathing from yoga was an excellent coping mechanism through the pain!

5 hrs 41 mins later on 5th Jan at 1.31am my beautiful baby boy... Jack Thomas Lea arrived.. With a head full of beautiful dark hair and the most perfect baby I've ever laid eyes on! I had done it! It was the best accomplishment I've ever achieved! I look at him everyday and can't believe I carried him and nurtured him for TEN months ha! And then delivered him... It's magical!
I want to thank you for our yoga classes and the couples workshop... Craig was amazing! Didn't know he had that capability to stay so calm and focused and really helped me through... We did it together (also with the help of my mum who I think is still a little traumatised! :) ).

I began 2014 in the best possible way.
---
Clare and baby Emily
Hi jenny, just to let you know that on thurs, 12 days late! I gave birth to the most gorgeous baby girl who we have named Emily Olivia!

Labour was so different to last time, I woke at 2am with quite mild contractions about 6mins apart and stayed in bed breathing through them thinking it was the start of a long haul. then just after 4 I suddenly had a much stronger one an my waters broke an from then it was all systems go!!

Contractions were suddenly only a min or 2 apart and I had to really concentrate on my breathing to get through them. Realising we didn't have long we rushed to hospital and by the time we got to the assessment unit I felt like I needed to push!!! They quickly got me to a room on MLU and I began pushing. After what felt like a lifetime and a lot of 'I can't do it!' screams Emily came into the world at half 6 weighing 8lb 3oz and is the image of her sister - just amazing!!

Lucy came to meet her that evening and is delighted with her baby sister!

I loved pregnancy yoga and thought of you lots during labour but with everything happening so fast I didn't get to swish my silver unicorn tail!!!!

I can't wait to introduce you at baby yoga,
lots of love, Claire and Emily x
---
Clare and baby Alex
I had my gorgeous little boy Alex James Wightman just over 6 weeks ago! He is a total star so calm, happy and smiley, we put a lot of his good nature down to his birth. It took a long time for Nick and I to decide to opt for a home birth. We are so glad we did as Alex's birth was just amazing! It started with my waters breaking in bed at 10 o'clock on Sat night (luckily I had put a waterproof sheet on the bed!) then contractions followed half an hour later.

We rang our One-to-one midwife (Tracey) who after a few hours came out for an assessment. She said I was only 3-4cm so best thing to do was to go back to bed and try and get some sleep, she would go home and we should call her again when contractions had got closer together. This I thought, sounded like a crazy idea at the time, but as I had been practicing the breathing techniques you taught us and had also been practicing hypnobirthing, I actually did rest well in between contractions.

As the contractions strengthened I also used a TENS machine which was surprisingly good. With the TENS machine and Nick helping me to remember to use the breathing techniques we stayed in bed resting until around half past 6. I then suddenly decided it was time to get in the birthing pool. The contractions had got much stronger and I now remember saying to Nick "I'm not coping, I'm not coping..." which I now realise must have been the transition. Nick then rang Tracey again and I remember saying "Nick I'm pushing and I can't help it..." Needless to say Tracey came straight away.

I had only been in the pool for half an hour when Alex was born and Tracey made it to our house in time with only 8 minutes to spare. It was such an amazing experience picking him up out of the pool and cuddling him. He didn't cry for about 10 minutes but was just looking up at us with his lovely big blue eyes. If someone had told me when I was first pregnant that I would have a home birth with a midwife present for just the last 8 minutes with no pain relief I would have laughed at them! It would have seemed unbelievable. But the breathing techniques work so amazingly well and as Nick and I attended the couples class, he was able to be so supportive, as he knew what to expect. I really couldn't have done it without him. I feel very lucky to have had such a positive and empowering birth experience and feel it's given Alex such a great start!

Being pregnant with Alex was a such special time and I really believe the classes helped with the birth and so many aspects of being pregnant. Thank you!
---
Margariet and baby Femke
Eleven days after her due date, our second daughter finally entered the world on Saturday 7th December, on what proved to be a very special day for our family. Femke Edna Hulse was born on her great grandmother's 100th birthday, meaning mummy and new baby missed the birthday party, but giving the family extra reason to celebrate. The name Femke is from mum Margriet's Dutch side of the family, and Edna is her great grandmother's name.

I'd like to thank you for all the wonderful breathing techniques which we practiced in our yoga classes. These proved to be invaluable. My contractions started at 1:30 am, so I then climbed many mountains using golden thread breath, until getting to hospital at 6:30 am, when I was 8 cm dilated. Then I carried on using lots of tail swishing and loud exhaling to help me to get to the point where Femke was ready to be delivered at 9:30 am. The midwife commended me on my breathing techniques, which I know were thanks to your classes.

Femke is a very placid adorable baby, who is adored by her big sister Amalia and who is settling well into life at home.

So thanks again for a wonderful yoga class and best wishes to all the girls who have still to give birth.
---
Kathy and baby Matilda Honey
Just to let you know, our new baby arrived last night having kept us waiting for an extra 3 days. Labour was amazing again and my focus was down to you again I'm sure! I had my first contractions as we were putting phoebe to bed at 6:40, so just started walking and doing a lot of camel walking, they suddenly started to come thick and fast so made our way to the hospital for 8:40 where my waters broke (popped & gushed to be precise) & Matilda Honey Begley


---
Charlotte and baby Eva
Just wanted to let you know that our daughter, Eva Shreya Mistry was born 11 days overdue and with some concerns regarding the baby's heart rate I ended up being taken for a C section. This was not quite the birth I had envisaged but more important that she be delivered safely and not in any distress. I had a long wait for theatre and in the mean time my contractions started coming strongly every 10 mins. I was connected to monitors so wasn't able to move around and had to lie on my side in bed so the breathing techniques you taught me were so helpful. I blew away each contraction with a golden thread breath, vocalised on ahhhh and climbed up and down lots of mountains in my mind (!) whilst waiting to go to theatre and even whilst being prepped for the spinal block. What a completely awesome and overwhelming feeling when I got to hold Eva for the first time! I know that the techniques I learnt in yoga class really helped me to stay focused and calm and to accept the birth that i had been given. Thank you!
---
Becci and baby Finley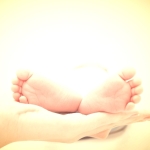 We went to hospital for a check up on the Monday morning and for once we were both really relaxed. We were reassured everything was fine but after discussing our history the midwife suggested we could have an early induction if we wanted - mainly for our sanity really. At this point, I just wanted to hold baby and see that he had arrived safely so the induction was tempting... but, I must say after talking so much about a natural birth and all the preparation that we had done in class, we decided to hold out. So, home we went and after a long walk along the Prom my first contraction started just as I lay down for a nap. I just assumed it was braxton hicks again so just ignored it and put the bread machine on (because that is what sane people do!). Ten minutes later the second contraction came which was a lot more painful and right on queue the third came 10 minutes later. We got all excited and opened our contraction timer apps when 3 minutes later the next one came - still painful but because it was all a bit irregular we got a bit disheartened and assumed it wasn't real. But, they kept coming every 3 minutes and within 15 minutes, the contractions were coming every 2 minutes with no time in between. I must admit I wasn't as relaxed and calm as I had wanted to be but Greg was! He reminded me to send the noises downwards which really helped and to visualise climbing a mountain. An hour after it all began we accepted that it was happening and with the contractions coming non stop made our way to the hospital in rush hour, wouldn't you know it. It took ages to get there in what should have been an 8 minute journey. Just as we pulled on to Upper Parliament St I felt the urge to push which was so scary. We made it to the MLU and after a quick examination the surprised midwife told me to push with the next contraction - so I did, with the gas and air still being set up. The next contraction came and went with no progress and the midwife became a little worried about baby. Both Greg and I knew I needed to change position and the second I was upright the contraction came and with a big push Finley Lucas Price arrived into the world with a little cry - just 2 hours after it all started. Another 5 minutes at home and he would have been born in the car!

All in all it wasn't our plan A or plan B but he arrived safely in his own terms which is the main thing. I wish I had of accepted I was in labour earlier so I could have tried to be a little calmer, but Greg was brilliant reminding me of golden thread breath and "the other one you do" aka ujaja (?) breath. The mountain climb seemed endless and there was no meadow at the bottom but that didn't matter when he arrived.

I'm really grateful that we decided not to be induced and really that is down to yoga and the couples class - it gave me the confidence to trust in my body and I cannot thank you enough for that.
---
Julie and baby Beatrice
Just to let you know that Beatrice Violet Suffield arrived at 1.49pm on Christmas Day, weighing 8lb 2. She is absolutely gorgeous, and we just can't stop looking at her. After being 3cm dilated for 1 week my labour progressed extremely rapidly. I arrived at hospital at 9.30am after waking at 9am to find my waters had broken. By 10.30 I was 5cm, and just 1 hour 10 minutes later I was 10cm. After just over 1 hour of pushing Beatrice Violet arrived. The total length of my labour was logged as 2hours 49 minutes, so there wasn't too much time to practice my early labour yoga tips such as walking or massage! However I did lots of tail swishing and golden thread breaths whilst I was in the pool, alongside plenty of gas and air. I found visualisations really helped me when it was time to push, but the biggest help I had was Jamie who was AMAZING at supporting me. I really believe that the couples yoga workshop helped him. He had really taken on board everything you said and I could not have done it without him.
---
Claire and baby Alex
I had my gorgeous little boy Alex James Wightman just over 6 weeks ago! He is a total star so calm, happy and smiley, we put a lot of his good nature down to his birth. It took a long time for Nick and I to decide to opt for a home birth. We are so glad we did as Alex's birth was just amazing! It started with my waters breaking in bed at 10 o'clock on Sat night (luckily I had put a waterproof sheet on the bed!) then contractions followed half an hour later. We rang our One-to-one midwife (Tracey) who after a few hours came out for an assessment. She said I was only 3-4cm so best thing to do was to go back to bed and try and get some sleep, she would go home and we should call her again when contractions had got closer together. This I thought, sounded like a crazy idea at the time, but as I had been practicing the breathing techniques you taught us and had also been practicing hypnobirthing, I actually did rest well in between contractions. As the contractions strengthened I also used a TENS machine which was surprisingly good. With the TENS machine and Nick helping me to remember to use the breathing techniques we stayed in bed resting until around half past 6. I then suddenly decided it was time to get in the birthing pool. The contractions had got much stronger and I now remember saying to Nick "I'm not coping, I'm not coping..." which I now realise must have been the transition. Nick then rang Tracey again and I remember saying "Nick I'm pushing and I can't help it..." Needless to say Tracey came straight away. I had only been in the pool for half an hour when Alex was born and Tracey made it to our house in time with only 8 minutes to spare. It was such an amazing experience picking him up out of the pool and cuddling him. He didn't cry for about 10 minutes but was just looking up at us with his lovely big blue eyes. If someone had told me when I was first pregnant that I would have a home birth with a midwife present for just the last 8 minutes with no pain relief I would have laughed at them! It would have seemed unbelievable. But the breathing techniques work so amazingly well and as Nick and I attended the couples class, he was able to be so supportive, as he knew what to expect. I really couldn't have done it without him. I feel very lucky to have had such a positive and empowering birth experience and feel it's given Alex such a great start!

Being pregnant with Alex was a such special time and I really believe the classes helped with the birth and so many aspects of being pregnant. Thank you!
---
Becky and baby Charlotte
Hope you are well. Just wanted to let you know that my baby arrived a day before due date on the 6th December at 6.08am weighing 7lb 1oz. She's a girl.

I had the labour and birth I had been hoping for. With all happening a lot quicker than I expected. I started having surges at about 7pm on the Thursday eve. Right from the start they were coming every 3 minutes or so which made me think they were probably very strong braxton hicks as I wasn't expecting them to be so close together from the start!
After muching through some cheese and biscuits and watching Im a celebrity get me out of here. I decided to go to bed still convinced it couldn't be real labour. I couldn't sleep and they didn't ease getting a little stronger each time. I decided to have a bath at about midnight and just before I got in my waters went but again being in denial and as there wasn't floods of fluid I carried own with the bath.
After the bath my husband kept wanting to call the midwife but I didn't want to at about 2am I agreed he could call the hospital. (Not sure if you recall but I had my heart obsessively set on a water birth at the women's but had a back up home birth pool ready incase the pool was in use)
Hubby made the call and the pool was free yippee! This certainly perked me up and got me agreeing to head over there. The car journey was pretty touch and bumpy but I kept focused with golden thread breathes all the way there. Upon arrival and examination I was already 10cm dilated and ready to go! Once in the pool I continued with my breathing and hypnobirthing focus. With my husband and mum helping with breathing prompts. I decided to have some gas and air and remained focused with my relaxing music.
After about an hour I needed encouragement to use my breathing to push the baby down. Needing some extra focus I decided the music needed to change tempo and opted for Kings of Leon "my sex is on fire" to give me the final boost to bring Charlotte into the world. Truly amazing and your yoga classes had a huge part to play in getting me there. Combined with the hypno birth course I attended.
Thank you so much for the part you and your classes played in preparing me for the perfect labour and birth. I will be telling everyone how amazing your classes are.
---
Sammy and baby Nicholas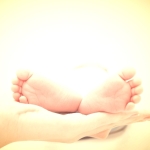 Just wanted you to know that our son, Nicholas, was born yesterday morning at 00.45am - 2 and a half weeks early so a bit of a surprise! Didn't even get my first full day of maternity leave! It all happened quite quickly- waters broke (gushed!) at 4.30pm, by 9pm I was 5cm dilated and then there he was not too long after! No pain relief just used those amazing golden thread and ujaya breaths and some visualisation. Went exactly how I wanted it to. He weighs 7lbs 4oz and is gorgeous. Thank you so much because I swear that without your course it wouldn't have gone as smoothly!
---
Stephanie and baby Sidonie
It seems like yesterday though, time flies when baby's here:). She arrived exactly a week before the due date. Once the birthing pool was bloan in our lounge, Rod n I played in it like teenager, far from imagining that 2 days later we'd be relying on it for pain relief. On a sunny Sunday morning, at 7.30am, the water broke, one hour later I was having surges every 10 minutes, one hour later surges every 5 minutes, it was clear that baby was determined to come and join us soon. Rod was in charge of filling the pool, he exceled in acting fast without showing any sign of nervousness, I knew though :). What a relief once i stepped in the warm water, then from there time was distorted, I remember being very much within myself, focused and determined to have my baby here at home in the best possible conditions. Our 2 midwives met me where I was spiritualy which made the all experience even more fluid.

I know that I owe you and the yogabumps classes massive credits for providing me with the right body&mind tools to reach the Trust and Sense of Belief on which I relied to give me strength throughout labour. At 16.36 on the same sunny Sunday SIdonie was born in our home, naturally under water.

Bliss is the word coming to mind when I held her in my arms for the 1st time and Pride of what Rod, Sidonie and I achieved on that beautiful sunny Sunday:)